Delve App in Office 365
Employee, Document, & Organizational Chart Search Tool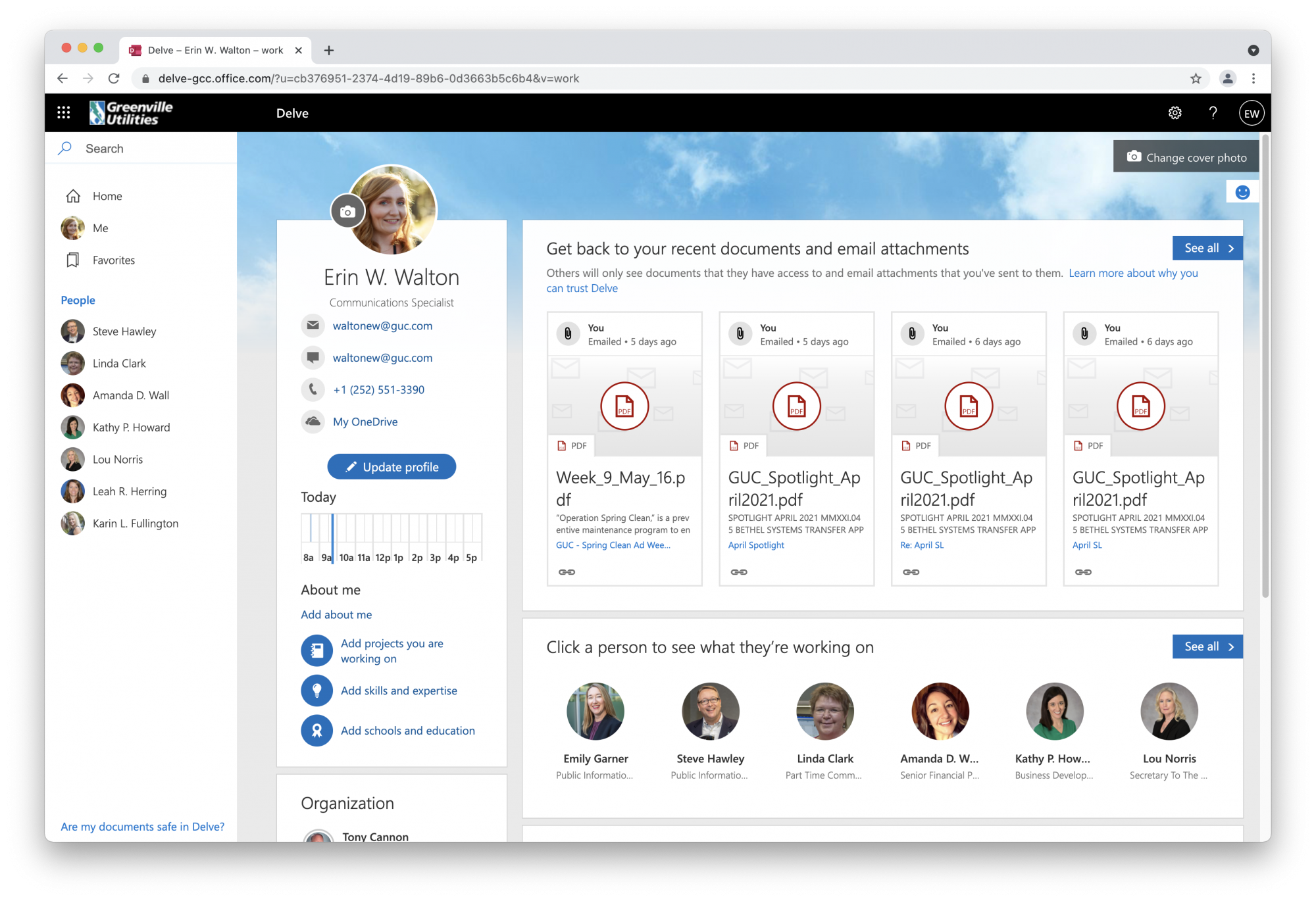 In late 2019, GUC began migrating SharePoint 2010 to a more robust SharePoint within Office/Microsoft 365. We have since been sharing the many tools and applications (apps) within the upgraded SharePoint and Office/Microsoft 365.
This month, we focus on Delve, a Microsoft application available through office.com. We also encourage you to explore all of the 20 plus tools and features of Microsoft 365 at www.office.com. You can log in using your current GUC email and password.
What is Delve?
Delve is one of the many apps within GUC's Office / Microsoft 365 subscription. You can use Delve to manage your profile, search for GUC employee contact information and organizational charts, and to discover both shared and your own private documents that you have worked on recently.
When it comes to document sharing and management, Delve never changes any permissions, so you'll only see documents that are private to you or that you already have access to. For example, if another employee shared a document with you, that document will only be visible in Delve to you and the person who shared it. The same goes for when a document is shared within a group.
Need to find someone's job title or contact information? You can also use Delve to search for other GUC employees, just like you may have done using the former SharePoint 2010.
Here is a quick summary of Delve features:
Connect and collaborate with other people.

Search for people, documents, or

information

boards.

See what

shared

documents others are working on or learn more about them.

Discover and organize information from across Microsoft 365.

Add a document as a favorite or to a board to easily get back to it later.

Stay connected and productive wherever you are.
Where is Delve located?
Delve can be found through the Office / Microsoft 365 website by following these simple steps:
Sign into Office / Microsoft 3

65

at office.com

with your GUC email and password.

On the Microsoft 365 home page, select the app launcher at top

lef

t

corner

of

browser window.

Select the Delve tile in the app launcher, or on the home page.
There is also a short video by E-Learning Instructional Designer/Trainer Carrie Peed on how to use Delve. Click here or go to SharePoint/Stream/Channels/Training Office.