SharePoint Upgrades & Office 365

SharePoint Upgrades & Office 365
Document Storage & Sharing
GUC's Intranet, MyGUC, has been running on SharePoint 2010 for eight years. In 2019, Microsoft announced the end of life for SharePoint 2010 as well as their support for its server operating system. So, what's next for document sharing, announcements, and all things MyGUC? A more robust SharePoint within Office 365, and much more! In fact, there are so many new tools coming down the pipeline, that we have broken this topic into a monthly series that will showcase the various components of the new system.
This month, we focus on OneDrive and file storage. We also encourage you to explore the features of OneDrive and Office 365 at www.office.com. You can login using your current GUC email and password.

File Storage History
For some time now, GUC employees have been sharing and storing files using a variety of network tools like O Drive, S Drive, N Drive, SharePoint, and FileNet. More recently, tools like Dropbox, Box.NET, and Drive (Google) have emerged as key players in the world's storage, sharing, and syncing "toolbox." All these choices have given us a fragmented approach to file storage.
With the migration of MyGUC to Office 365, we now have opportunities to take advantage of more robust file storing and sharing with OneDrive.
Introducing OneDrive
OneDrive is your work file storage tool that is part of GUC's Office 365 subscription. It's also a part of GUC's file storage vision into 2020 and beyond. With OneDrive, you can find, edit, and share your documents with specific people both inside and outside of GUC. OneDrive also provides a way to keep your files in sync between multiple computers, your mobile devices, and the cloud, giving you secure, remote access to files.
"During our Windows 10 deployment, every machine received OneDrive," said Nick Klapp, IT Support Specialist Supervisor. "We took this action out of the gate to make sure our employees were setup to take advantage of our long-term storage strategy."
Tony Godwin, Interim IT Director/IT Infrastructure Manager, further explains that as part of our subscription, each employee is allocated 5 terabytes (TB) of storage. "We believe 5TB to be more than enough to accomplish most of our employees' storage needs," said Tony.
The OneDrive solution makes your information available to you anywhere, anytime. Unlike DropBox or similar syncing products, OneDrive is an officially supported solution for storage of business documents at GUC.
What's Next?
Going forward, IT plans to continue streamlining storage options, with OneDrive, SharePoint, and Laserfiche at the center of the plan. Laserfiche is the "onsite" document storage used for mostly scanned paper files that GUC is legally required to keep per the 
Municipal Public Records Schedule (like invoices, service cards, etc.). SharePoint will continue to be where we share and edit files with teams and groups. Many of you have been introduced to these tools over the past year, and IT has a plan in place to continue educating us all on the new document storage solutions.
In the coming months, IT staff will work directly with departments to identify the uses of network file shares (like O, S, and N Drives) and help create the appropriate new place for storage of those files on either OneDrive, SharePoint, or Laserfiche.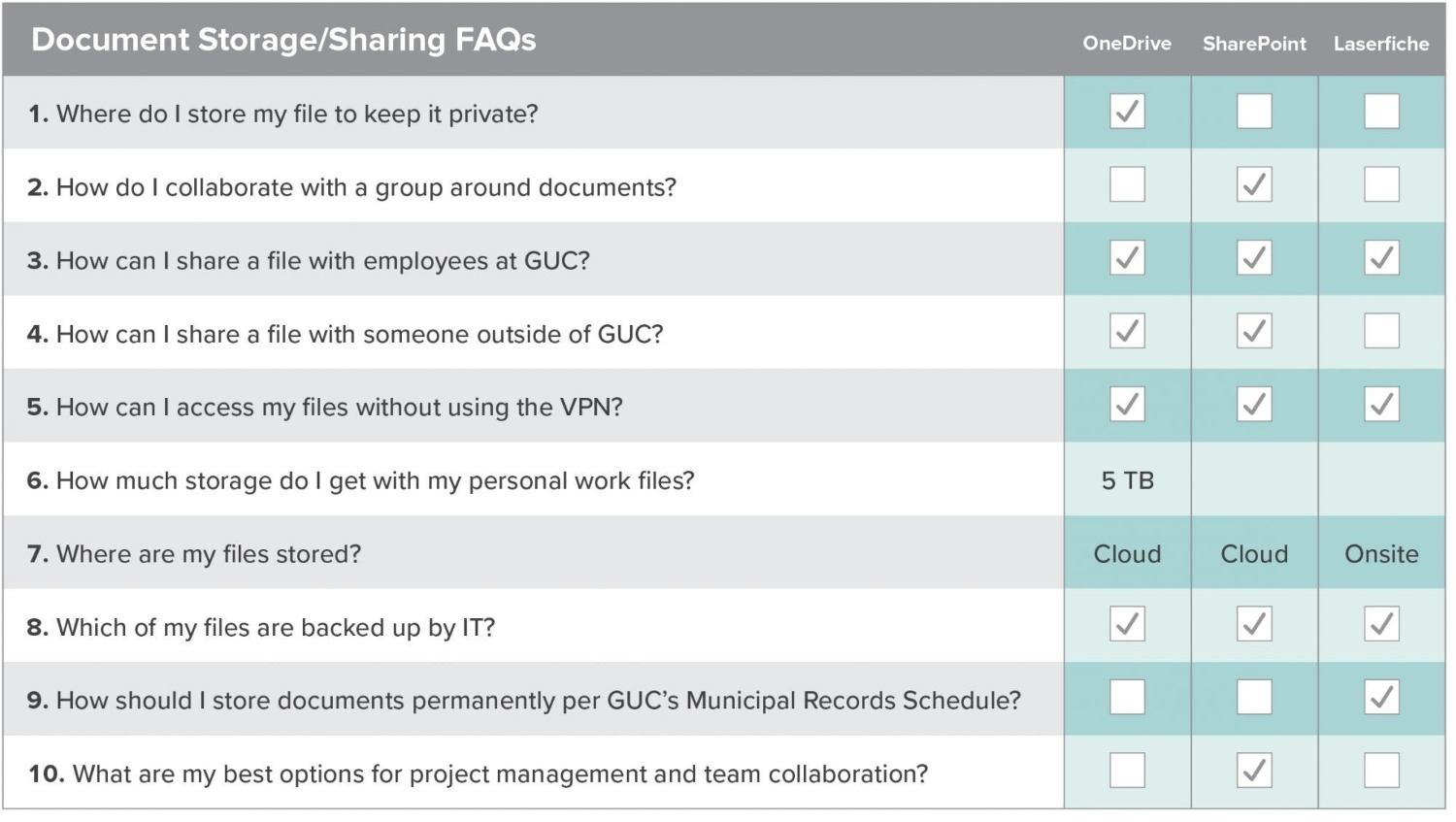 What To Expect In 2020
*UPDATE: 
While IT is still eager to assist you in your move and cleanup of information on the network file shares, they understand that the abrupt work-from-home scenarios have been disruptive. With this in mind, IT is relaxing the targeted dates and will set new goals later in 2020. If you would still like to migrate your information to a more usable platform, please don't hesitate to reach out to the IT Help Desk. Help Desk technicians will get you partnered with an appropriate resource.  
Need help with Office 365 applications such as Teams?  
Contact the IT Applications Team for assistance: 
252-551-6238  
Aaron Johnson 
Todd Cannon 
Krystle Small 
John Bartolotti 
Previous Schedule
Winter/Spring 2020: IT works with departments to identify the uses of file shares (like O, S, and N Drives) and help create the appropriate new place for storage of those files on either OneDrive, SharePoint, and/or Laserfiche.
Spring/Summer 2020: Finalize file moves to either OneDrive, SharePoint, and/or Laserfiche. IT will work with employees who have special situations requiring a network share option.
Summer 2020: Network file shares (like O, S, and N Drives) become "read only." IT will work with employees who have discovered a file share that was not previously identified and find a suitable solution.
Fall 2020: Network file shares will be removed from service.