SharePoint Upgrades & Office 365
SharePoint Upgrades & Office 365
GUC's Intranet, MyGUC, has been running on SharePoint version 2010 for eight years. Earlier this year, Microsoft announced the end of life for SharePoint 2010 as well as their support for its server operating system. So what's next for document sharing, announcements, and all things MyGUC? A more robust SharePoint within Office 365, and much more! In fact, there are so many new tools coming down the pipeline, that we are breaking this topic into a monthly series that will showcase the various components of the new system.
Project Background
Since 2011, GUC has been using SharePoint 2010 as our Intranet service, branded "MyGUC." It's been used by employees for project collaboration and planning, document sharing and storage, calendar sharing, announcements, team pages, and important resource links such as benefits and safety information.
When Microsoft made its announcement in early 2019 that it was ending SharePoint 2010 support, our Information Technology (IT) Department had to propose a new solution. "Over time, storage and employee collaboration options for company Intranet solutions have grown in the cloud-based arena, and platforms like Office 365 have become the new norm," said Todd Cannon, IT Applications Manager. "Since GUC already makes an Office 365 subscription available to every employee through email, we decided this was the best time to reposition our collaboration and informational portals into the cloud using Office 365."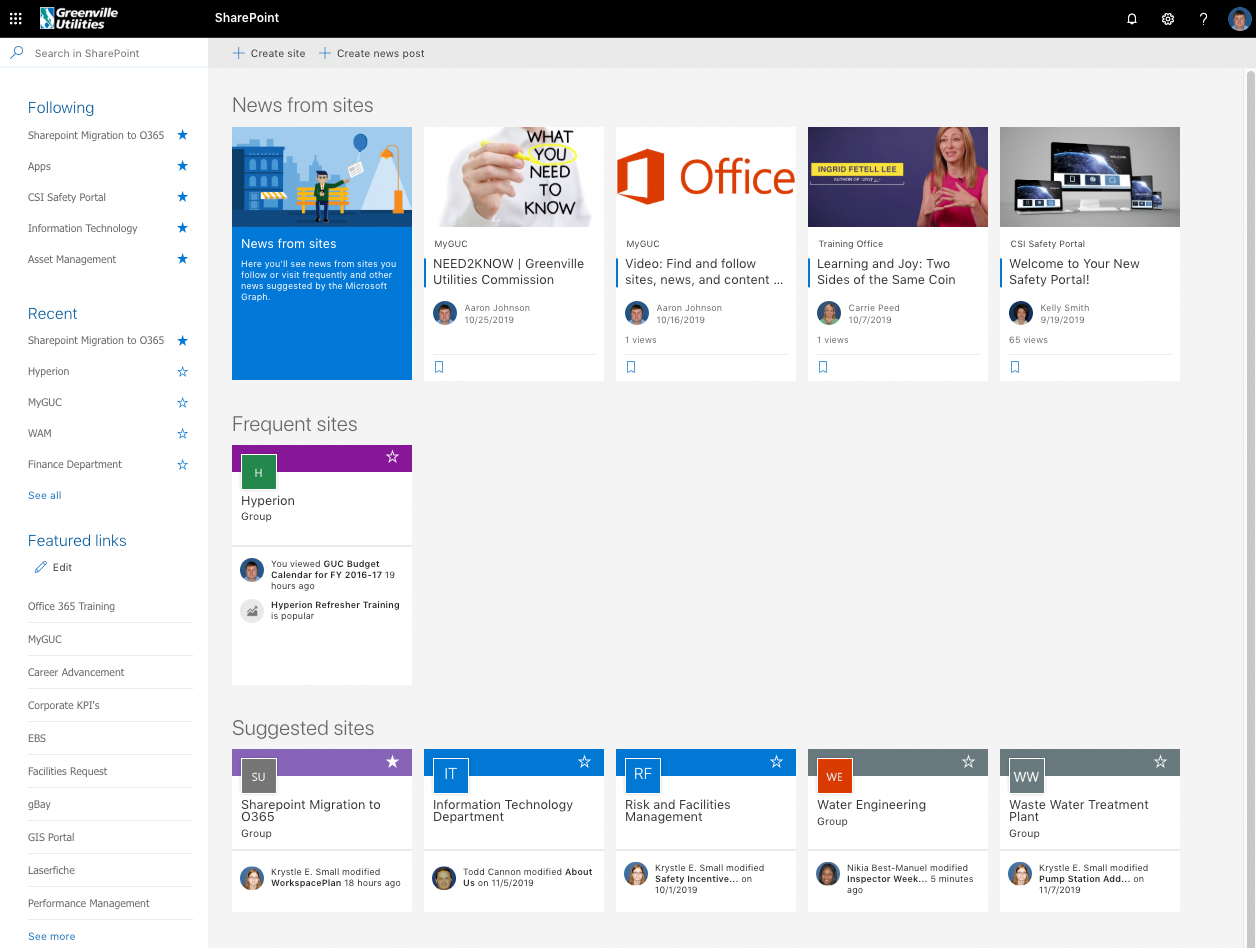 Introducing Office 365
The move from our current version of SharePoint to Office 365 is well underway, and IT has worked hard to make the transition as seamless as possible, including the decision to temporarily keep the main landing page for MyGUC (my.guc.com), which will eventually be moved.
Since July of this year, the IT Applications Team (Todd Cannon, Aaron Johnson, Krystle Small, and Kayleigh LeBlanc) has worked directly with departmental staff in transitioning to Office 365, which includes a SharePoint Online app. Most of the department and group sites have already been moved to the new platform and are in use today. Employees are being introduced to the many tools in the Office 365 suite, which include, but are not limited to:
SharePoint (aka MyGUC)
OneDrive (our new cloud-based drive)
MS Teams (a tool for group projects and collaboration)
Delve (how we search for employees and documents)
And much more!
In the coming months, we will focus in detail on most of the tools within Office 365, including the upgraded SharePoint Online.
Most of the transitions so far have occurred with little to no interruption, all while bringing many new tools and security features to GUC employees.
"For most people, this has been a positive experience," said Aaron Johnson, IT Systems Analyst IV. "This new product suite is very user-friendly, works across multiple platforms, and provides tools that empower employees."
To date, 47 out of 51 of GUC's team sites have been moved, and over 30 outdated or unused sites have been deleted. The Applications Team has spoken directly to over 85 employees, which has translated to a faster transition rate than originally anticipated.
"MS Teams within Office 365 has provided our group a more effective platform for interacting with each other and accessing work files, whether we're in or away from the office," said Jonathan Britt, Advanced Analytics Manager. "The file sharing, task planning/tracking, and chat functionality allow us to complete projects more efficiently than we have in the past."
Coming Up…
Even though IT has made significant progress, there is still more work to do. In the coming months, more workspaces will be moved or deleted, and many of the sites on MyGUC will be upgraded (like gBay and Career Advancement). One site, CSI Safety Portal, has already been upgraded and moved, so be sure to check that out to get a feel of what's to come! Simply go to my.guc.com, and click on "Safety Portal" under Shortcuts.
While you wait on more details and the complete transfer to the upgraded SharePoint and Office 365, go ahead and explore the products at www.office.com. You can login using your current GUC email and password.